Fires can often be effectively prevented by taking preventive measures both at home and at work.

Nevertheless, there are around 150 house fires in Germany every day. If commercial fires are included, more than 700 deaths are caused by fires in Germany every year.
DÖKA fire extinguishers are characterised by very good handling properties and ease of use. Take care of your fire extinguisher and study the operating instructions printed on the extinguisher. If you then observe the following instructions, you have a good chance of successfully extinguishing an incipient fire that is recognised in time and preventing worse damage.
Always fight the fire in the direction of the wind!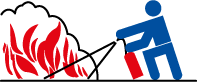 Always fight the source of the fire with the direction of the wind, this way you are better protected from smoke and radiant heat. Never extinguish against the wind!
Fight the source of the fire from the bottom up!
Fight the source of the fire from the bottom up. Apply the extinguishing agent to the source of the fire.
Do not spray into the flames from above!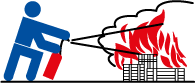 Cover liquid fires with extinguishing agent!
Do not hold the extinguishing agent jet into the flames! Avoid swirling the burning liquid.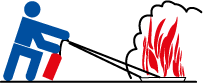 Fight larger fires with several extinguishers at the same time!
The motto is "a lot helps a lot". A large amount of extinguishing agent right at the beginning of the fire brings greater chances of extinguishing the fire successfully.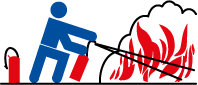 Do not put used fire extinguishers away again!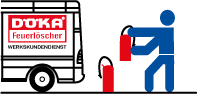 Have used fire extinguishers repaired by a maintenance service!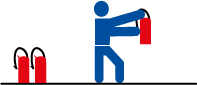 To ensure that fire extinguishers function reliably, they should be serviced regularly, at the latest every 2 years, by an expert maintenance service. In the commercial sector, this regular maintenance is even prescribed in various sets of regulations.